The Lost Time Injury Frequency Rate (LTIFR) is an international measurement unit for the rate of occupational injuries. It is calculated as the number of injuries per million working hours. The term injury is used if a person is absent from work for at least one day. There were five injuries at Reykjavik Energy Group in 2021, the same number as in 2020. Working hours were 959,575 , fewer than in 2020. Thus, the LTIFR increases year-on-year. The number of working hours is calculated by using working hours at the workplace and recorded working hours during telecommuting.
Absence accidents per million working hours
At Reykjavik Energy Group no umdertaking is so important that it is worth putting the safety of employees at risk. The Group's Safety and Health Policy is regularly reviewed by the Boards of Directors within the group. The goal is to achieve an accident-free workplace. That goal was not met in 2021. The Group sets clear safety requirements in all its tenders to ensure that contractors comply with safety regulations. The Group has also issued a Safety Handbook, which is available to all employees and contractors. All contractor employees are required to take certified safety courses.
In the supplier's Code of Conduct, the general rule applies that the work environment is to be wholesome, safe, and according to the law, and that the suppliers alert their employees of possible hazards in their workplace environment.
The Golden Rules
In 2020, a safety effort was launched among employees, under the caption: The Golden Rules. The objective is to alert employees to what is most hazardous in their workplace environment.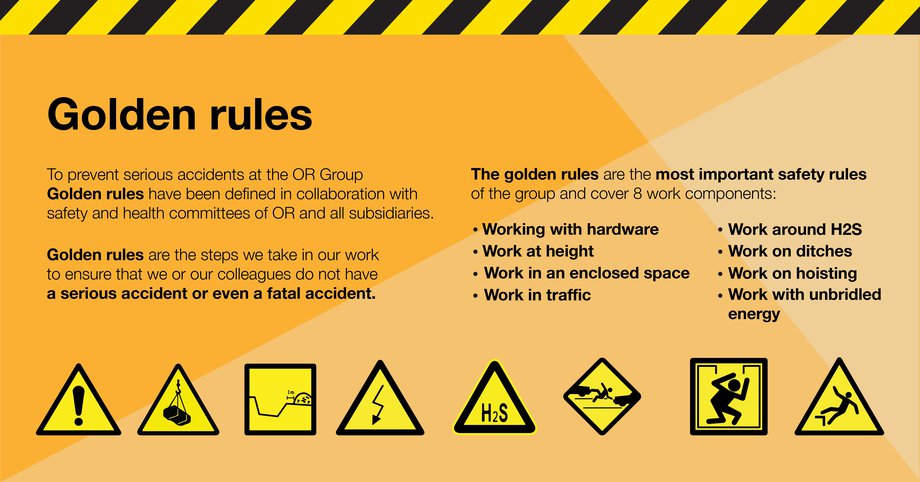 Björg - A Notification Database
Reykjavik Energy Group operates a notification database, where staff can register hazards and ideas for improvement at the workplace. These registered hazards provide the basis for review of health and safety issues. Each notification is reviewed and its resolution has to be confirmed. The increased number of notifications, until the unprecedented 2020, is a sign of increased awareness of safety issues and improved safety culture within the Group. Telecommuting during the year explains fewer notifications of hazards that employees met during working hours.
Notifications in the safety and health database
Everyone-always is the title of a project that was launched in 2021 to increase safety awareness and strengthen safety culture within Reykjavik Energy Group. In the video Páll Ragnar Pálsson elaborates on working methods at Veitur Utilities waste water systems. (IS)