The Reykjavik Energy Group is responsible for about 19,000 ha of land, some 16,000 ha of which are within protected areas. These include water protection areas, nature reserves, and areas belonging to the Nature Conservation Register, or areas that are under special protection, see video below (IS). An annex contains a list of protected areas and the species of birds and plants on the 'Red List', whose local habitat is located in these areas.
Restoration and reclamation
Particular emphasis is placed on restoration and reclamation of the natural environment when work is done in areas where Reykjavik Energy Group operates. This is especially true when it comes to minimising visual impact of power plants. Procedures and training for employees and contractors are revised and improved regularly in order to ensure even better conduct, e.g. in the protected areas. To reclaim disturbed vegetated soil, the vegetative cover is reserved and replanted. This is done in collaboration with licence authorities, and according to Reykjavik Energy Group's objectives.
Revegetation and silviculture
In 2021, ON Power planted 6,000 birch trees and mountain ash on 4 ha of land in the vicinity of the Nesjavellir Geothermal Power Plant, and approximately 6 ha of land was revegetated in eroded zones, outside operational areas. This is keeping with ON Power's objectives of expanding land reclamation in eroded zones, and domestic silviculture.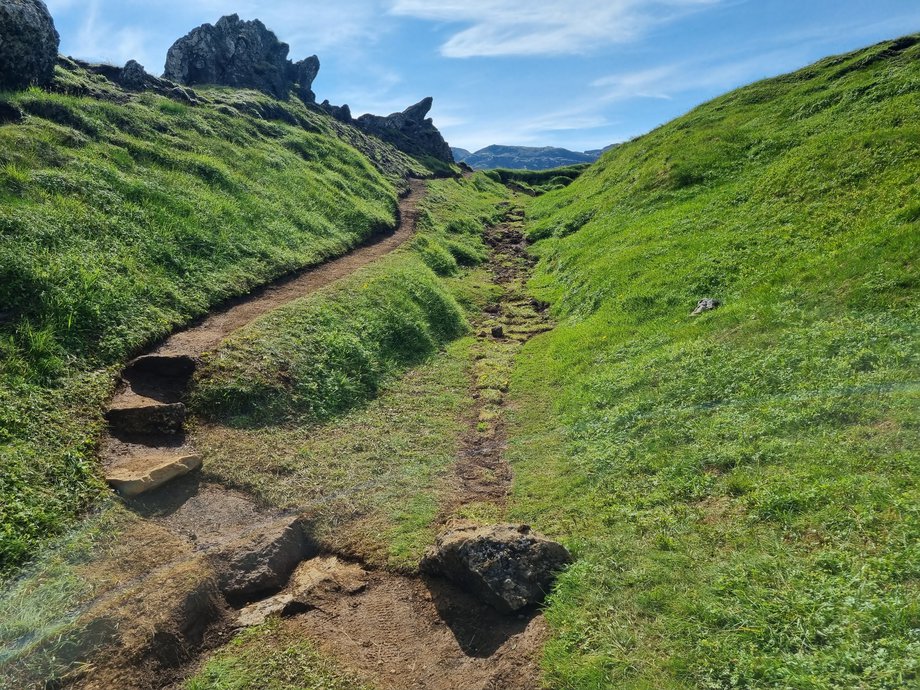 Hiking trails
For the last 30 years, Reykjavik Energy Group has overseen and maintained about 130 km of marked hiking trails at the Hengill area, going back to the start of operations at the Nesjavellir Geothermal Power Plant. Considerable increase in the number of hikers visit the area, and the area is very popular for hiking in all seasons, especially during the pandemic. In the summer of 2021, hiking trails at Nesjavellir were repaired. The work will continue in the summer of 2022.
Changes in Elliðavatn's water level
In connection with an extensive installation work by Veitur Utilities, in Elliðaár's channel, close to its mouth, a flap in Elliðavatn's reservoir was opened in February 2020, causing fall in water level under the set benchmark for a week.
In 2021 it became clear that the Marine and Freshwater Research Institute's will research and monitor the lake, starting January 2022.